On average, a seasoned sales executive will earn around $47,000 as base salary per year, plus commission.
And most CEOs will agree that it is a worthy investment; they play a vital part in the company, bringing in new business and maintaining existing client relationships. In the online world, your website is the high-performing sales executive. They work 24/7 to attract new leads, convert browsers to sales, maintain client relationships, and ask for nothing more than protection from hackers and malware. Yet, far too many CEOs do not realize their potential and consider them nothing more than a digital brochure, a set and forget tool, classed as an expense instead of an asset. 
Except they are not; treated correctly, your website can outperform any human sales executive in creating a buzz about your business, driving growth and a long-term income stream.
So what does it take to turn your website from an advertisement to a thriving hive of sales generation activity?
Think Long-Term Digital Relationships
A high-performing sales executive cannot develop a successful portfolio of clients overnight, nor can your website. It has to develop a relationship with the search engines that direct traffic to your website. Search engines are powered by content, and the more you provide them with fresh and unique material, the more referrals you will receive. Material includes blogs, news updates, non-stock images and search engine optimized content bursting with keywords and answers to your target audience's questions. Many businesses fail to maximize the potential of their website, considering it a one-off purchase instead of a sales rep that needs to be kept caffeinated and up-to-date with what the business has to offer (and what the customer wants to hear).
Your website is a vital communication tool for your business. Train it to speak the language of our target audience, and it will reward you handsomely. Online customers are looking for solutions to their problems, and there are a million options from which to choose. They also want information they can trust and that your product/service will work for them. Your website can provide this validation for them through:
Blogs that cement your position as an authority on the product/service
Easy shareability on social media platforms, creating a buzz of affirmations that direct their friends/family/work colleagues to your product/service.
Provide opportunities for posting reviews next to enticing images of your branded products/services.
Opportunities to buy now and create customer accounts that allow the consumer to check on the availability/location of the product they want 24/7.
Download our FREE Guide to Receive Raving Reviews
Create authority and social proof for websites, social media, and online case studies by knowing the EXACT questions to ask for a perfect story-telling testimonial.
Overcome Objections Before it Even Becomes a Question
Successful salespeople know their product/service inside out and have already figured out the answers to their potential client's objections to purchasing long before they begin their sales pitch. For your website to become your number one online sales rep, you need to ensure that its contents also answer every objection your customer will have (or at least the three most common ones). And answers their reason for being on your website upfront. Sure, you can ask the customer to contact you for more information, but only after you have provided them with enough interest in your product/service and a 'call to action' that gives them a reason to call. Most people visit a website, so they don't have to call someone.
Remember to check out your competitors' websites to see if your point of difference is still relevant or what you could be doing better.  
Invest in a Plan for your Website
Failing to plan is a plan for failure, as the saying goes. Just as you wouldn't let your salespeople begin selling without a strategy, nor should you publish your website without a clear strategic plan and analysis of your digital marketing needs and online target customer. Questions to ask of your digital strategy include:
Where does our target audience hang out online, e.g., Facebook, Instagram, News sites, E-zine?

How do they find us and our competitors, e.g., keywords, referral sites, social media, organic searches?

What frameworks will yield the most return on investment, e.g., blogging, social media, vlogging, podcasting, YouTube channel?

How will we digitally network and refer people to our website?
Dress Your Website to Impress
Your website is the storefront window of your business online, and it has to be dressed for success. You only have a matter of seconds to convince your prospective customer's eye (and brain) that they should check out what you have to offer and that they don't have to go looking elsewhere for an answer. Your website is a reflection of your brand and the message you are sending to the world. Yes – our brand is accessible, professional, trustworthy and better than anywhere else. You communicate this through:
Providing an experience that is accessible and easy to use on mobile, laptop and desktop.

Answers their questions of location, price, reliability and availability with ease.

Enticing content that speaks to them and highlights why they should choose your company.

Promotion of your brand story and the similarities between you. e.g., ethics, values
Schedule Regular Performance Reviews for Your Website
Numerous reporting features can be built into a website that can tell you how well your website attracts customer leads, sales conversions, how long people are spending on your site, what pages they like and which ones they don't. The most common of these is Google Analytics which can tell you which pages are doing better than others and where there are gaps in service.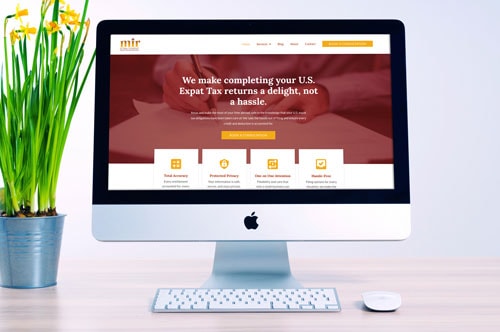 Buzzworks create websites that work for their owners. In 2021, we undertook a redesign of Mir Taxes and created a professional brand with 'active' content that quickly showed an impressive return on investment. After launching a single landing page, Carl gained twenty new clients during the first month and thirty-six more over the next two months. His website continues to work hard for him, and he has a digital strategy to keep it up-to-date and looking fresh. No additional PPC (pay per click) was required to achieve these results. Business is growing, and he is looking to hire new staff in 2022 to expand his business. His investment in his digital sales executive has paid off and he now considers his website a valuable asset, not an expense.   
We are not saying you should replace your sales reps with a website, they operate in different worlds after all but we do think that if you want your website to work as well as the top sales executives, you do need to treat it with the same time, care and attention as you do your human staff. Your website is so much more than an online brochure; talk to us today to discuss how the team at Buzzworks can provide your website with the makeover and training it needs to become your number one sales executive. 
Book your FREE 30-minute assessment.
Let us take the sting out of your website.  Align your business goals with your digital marketing strategy to attract your ideal customer. Just book a consultation.